Cirris System's goal is to have cables and harnesses free of errors. While many of our products are used for final testing at the end of the test process, they have many features that can be used early in the process to catch errors immediately or prevent them entirely. One of these features is for first-ended pinning.
First-ended pinning is the process of pinning the first end of a wire and using capacitance to verify that the wire has been placed in the correct connector hole. This technique is useful for instances when the second end will be terminated later in the field, will be spliced with another wire, or will be plugged into a connector (second-ended pinning).
There are several important things you need to successfully perform first ended pinning.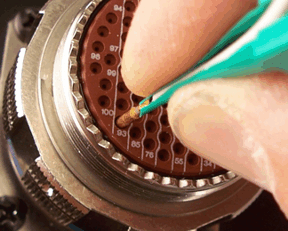 Wires must be labeled – After completing first-ended pinning, the wires must reach their second-end destination. The only way to do that is by labeling each wire before first-ended pinning.
The tester must be able to sense the wire – The wire should lay on the table or on other objects that serve as a ground plane to increase capacitance. The capacitance setting should be set low enough to sense the wire. The wire must be long enough for the tester to sense it.
Turn up the volume – The tester uses sound to alert the operator of errors. When the wire is inserted into the correct cavity, a good sound plays. But if the operator makes a mistake and inserts the pin into the wrong position, a bad tone plays so the operator can correct the mistake.
The earlier an error is found, the sooner it can be corrected. First-ended pinning is one way to catch errors early. To learn more about this process, check out our article in the Cirris Learning Center.
Further Reading: