While plastic shells don't need to be tested, metal shells and even plastic shells with conductive coatings should be included as a test point.
Counting the shell as a test point could help find errors. Even if there is no connection to a metal shell, testing could cause a short to a chassis or earth ground. A shorts test or high voltage test on the shell could find a defect. If a shell does not have a predictable resistance value when mated, a good alternative is to use an alligator clip.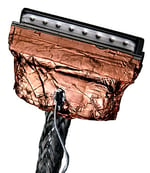 Basically, if the shell is connected, connect a test point to the shell.
For more information on testing shells, check out the article in the Cirris Learning Center.
Further Reading:
How to Make Fixturing Last Through Thousands of Tests