Cirris easy-wire Software is filled with useful features that are often overlooked. When these features are used in testing, they can provide many benefits including saving time and simplifying test creation.
One of these features is the Auto-Generate program. Before any test program can be created, the necessary connectors must be registered in the software. Then can they be added to the test program.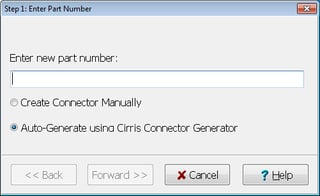 Connectors are added to the software in the Connector Registry. While the Connector Registry has a large collection of connectors already included in the software, it is not a complete list. You may have to add connectors that are not already listed. This can be done automatically through the Connector Generator.
The Connector Generator allows you to bypass the work of creating a connector, including creating an image of the connector. Simply type the name of the connector into the field in easy-wire, select "Auto-Generate using Cirris Connector Generator," and click "Forward." The connector information will be added to the software and can then be added to test programs.
While the Connector Generator program allows you to easily add dozens more connectors to the Connector Registry, there are still many connectors not included with this feature. The easy-wire user manual has a list of connectors that can be added using the Connector Generator feature.
Further Reading: