---
Those who work in the wire assembly industry are probably familiar with IPC/WHMA A-620. This thorough guide provides standards for manufacturers to follow when building, testing, and performing other tasks related to wire processing.
---
What is A-620?
A-620 is a book put out by the Institute of Printed Circuits (IPC) and the Wire Harness Manufacturers Association (WHMA) to create standards for maintaining the quality of wires, cables, and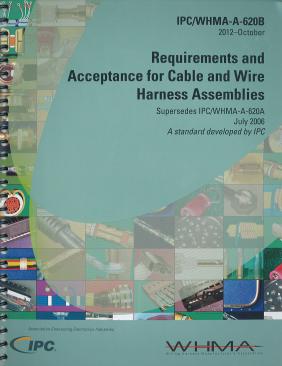 harnesses.
Experts from all over the industry contributed knowledge in order to set standards that are both practical and reach the required guidelines for the industry. Cirris used our own knowledge and experience to help write the section on cable and harness testing.
What Do Manufacturers Need to Know?
The 400 pages of A-620 covers all aspects of wire assembly. Manufacturers can reference this guide for all steps of the process, including testing.
Cable manufacturers who test cables can use A-620 when testing. The guide provides specific value ranges to assist manufacturers when inputting test values. For example, the guide gives resistance values for different types of cables being tested.
The settings are divided into categories depending on the type of cables being tested. Simple cables used in general electronic products will require less stringent test requirements than those needed for high performance devices.
Cirris recommends using A-620 standards to set values in test programs if values are not listed in the specifications.
---

Where Can Manufacturers find A-620?
Currently this guide only exists in paper form or on CD-Rom. It is available in English, Spanish, Chinese, German, Danish, Polish, and French. You can purchase an updated version (A-620 Rev B) at ipc.org or whma.org.
For more information on A-620, see our article in the Learning Center.
Futher Reading:
A Simple Way to Shorten High Voltage (Hipot) Test Time
4 Ways to Get Up to Speed On Cable Testing Industry Trends
Resistance Is NOT Futile
---