If you were in Milwaukee on May 10th and 11th, you may have stopped by the Electrical Wire Processing Technology Expo. Cirris representatives enjoyed visiting with everyone who took the time to visit our booth. Whether picking up a brochure for one of our testers, seeking answers about testing, or grabbing a free give-away item, we hope you found what you were looking for from Cirris.
You may have noticed something different about Cirris's booth this year. Over the past few months, Cirris has been working with companies throughout the wire processing industry to create a cohesive build process. Software and tools can now be integrated together for the convenience of users.
Currently, Cirris work with the following companies: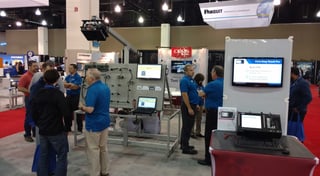 We have future plans to work with these companies:
If you are using Cirris testers and are looking for grid boards, CAD software, work tables, harness boards, text fixtures, or other tools and software, these companies have products that will compliment Cirris products. If you already use products from any of these companies and you are looking for test equipment, you may want to consider Cirris. Contact us now to learn more.
Further Reading:
Can't Make the Tradeshow? Cirris Has You Covered
How to Get the Most Out of a Tradeshow