The new Easy Touch Pro Cable Tester has all the features and functions of its predecessor, the Easy Touch, and now has upgrades to improve your testing experience.
One of the most favorable aspects of the Easy Touch is its built-in PC with a touch screen interface. The new Easy Touch Pro has been upgraded to a capacitive touch screen made with Dragontrail glass. This type of glass is famous for being thin and light but still damage resistant.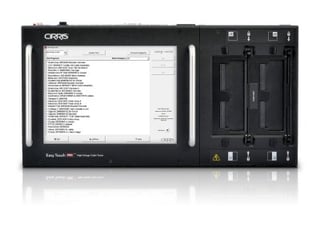 The Easy Touch Pro also comes installed with easy-wire 2017.1.0. This latest version of the tester software has new features that give users more testing options and runs faster on networks than previous versions. (Cirris easy-wire 2017.1.0 is available to purchase. Learn more here.)
If you are interested in a tester that can test 1500 VDC and 1000 VAC with up to 1024 test points and has a built-in PC, check out the Easy Touch Pro.
Further Reading:
Who Shouldn't Buy a Cirris Cable Tester?