---
Did you attend
EWPTE
this year? This tradeshow attracts professionals from every area of the wire processing industry. Whether you are shopping for the latest tools or seeking advice to improve your process, you will probably find answers at EWPTE. For those unable to make it to Milwaukee, here's what went on.
---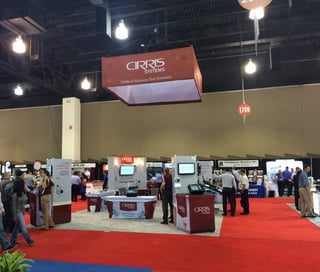 Exhibitors
The rows of booths displaying products—be it software, hardware, new tools, or familiar equipment—attract attendees from all areas of the industry. Wandering through the aisles of the show, familiar names and logos stand out. Attendees may recognize some of these brands from equipment already use in shops.
At the Cirris booth, everyone from line workers to design engineers to upper management positions commented on using Cirris testers at their facilities. We were pleased with the positive response from customers. No doubt other exhibitors experienced similar conversations.
Next to the Cirris booth, Schleuniger demonstrated their wire processing tools. Just up the aisle Panduit showed attendees the quality of their products. Dedicated companies and Innovative tools could be found in every corner of the show.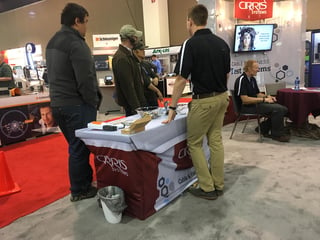 Attendees
With the show taking place in Milwaukee, most attendees visited from neighboring towns and states. However, the popularity of EWPTE attracted professionals from as far away as Costa Rica and other countries.
Cirris met customers and attendees from all over the world and the industry. Many came with questions about specific products or testing in general. Others picked up giveaways or played games. Overall, Cirris tried to make sure each attendee that visited the booth had a good experience.
For some attendees, this was their first year ever visiting the expo. Others were veterans of EWPTE and knew how to navigate the booths and find the best chocolate. Everyone took something away from the show, whether it was new ideas and information, or a hat.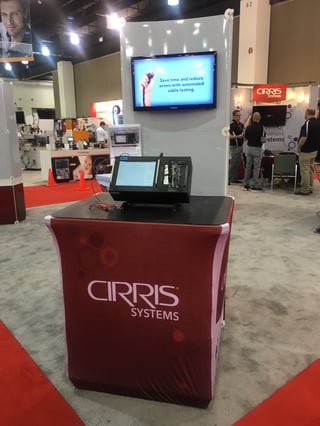 Cirris
The Cirris booth featured our most tried and tested products. The CH2, CR, Easy Touch, 1100H+, and 1100R+ testers were all displayed and ready to demonstrate. If you attended the show and want any more information on these products, visit the Cirris Testers page to find specs and download a brochure.
Sponsors
Throughout the two days of the show, sponsors provided everything from food and water for the exhibitors to refreshments for attendees. None of the expo would be possible or enjoyable without the help of sponsors.
As Event Partner, Wiring Harness News provided everything from lanyards to information about the show. Other companies assisted in helping run the show, be it providing funds, food, and more. All show sponsors deserve a thank you for their contributions.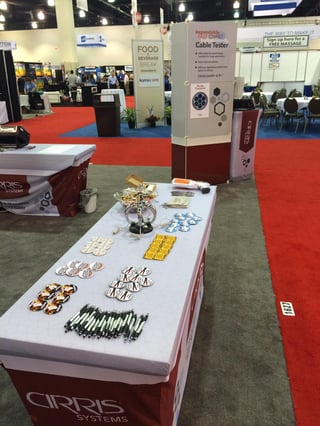 Games
What would a trade show be without games? Coming to the Cirris booth you'd find a Nerf gun and a target with an image of a connector in need of pins (you can see where this is going). Shoot three of seven pins to win. For a bit more fun, Cirris also had Lightning Reaction, a game of shock and quick reflexes. The games provided a light and refreshing break from the expo.
Partnering with other companies, Cirris participated in a keychain building activity. This gave attendees a chance to see different companies' products in use. In visiting each booth, participants collected or built keychains.
This activity gave exhibitors the chance to show off their product and also the partnerships between companies within the industry. If a company is considering expanding their shop, they now know several trusted companies that can provide them with the products they need.

Milwaukee
Outside the show, attendees and exhibitors enjoy the food and sites of Milwaukee. Visitors can go on a tour of the Miller Brewery, walk along the shores of Michigan Lake, take in a baseball game, and do much more.
For dinner, why not try some Wisconsin Macaroni and Cheese. Restaurants like Rock Bottom have a number of entrees that are sure to delight any foodie.
---
Next Year
If your schedule or budget prevented your attendance at this year's show, start now to prepare for next year. Whether you want to come exhibit your products or tour the show as an attendee, you are sure to learn something new to help your company. You won't be disappointed.
Further Reading:
How to Get the Most Out of a Tradeshow
Can't Make the Tradeshow? Cirris Has You Covered
---